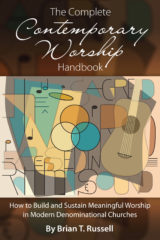 Contemporary Worship Handbook
How to Build and Sustain Meaningful Worship in Modern Denominational Churches
I know from experience that Brian's guidance in this book will give your congregation the opportunity to design and lead vibrant worship, and I recommend it to you with confidence and joy.
—Rev. Jay Hilbinger, Greensboro, NC
For pastors or worship leaders interested in either starting a contemporary worship service or bringing new life to an existing service, this book is a must read.
—Rev. Peggy A. Finch, Thomasville, NC
Finding Peace Amid the Chaos
My Escape from Depression and Suicide
Having battled chronic depression for almost 30 years...I urge those who have depression, and the families and friends of those who suffer from it, to read this compelling book.
—Tom Johnson, Former Publisher and CEO, Los Angeles Times,
Former Chairman and CEO, CNN
Captivating, riveting, and inspirational! Five stars for one of the best books I have read in a long time.
—Debra Rosen, President/CEO San Diego North Chamber of Commerce,
Founder of San Diego Women's Week